Denishio Blanchett
Parliamentarian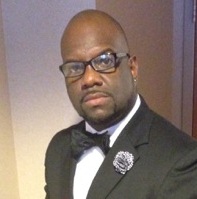 Denishio Blanchett, a native of Forrest City, AR "The Jewel of the Delta", is a 1995 graduate of Forrest City High School. He attended Arkansas State University on an academic/athletic scholarship and, in 2000, he became a "First Generation" College graduate earning a B.S. degree in Management Information Systems. He also minored in Telecommunications and Relational Database Management.
Mr. Blanchett was also a four-year letterman of the Arkansas State Indian's football team.
For the past 14 years, Mr. Blanchett has developed a wealth of experience in the information technology field. In June of 2000, he began his professional career as a Network Administrator for a Northeast Arkansas Medical facility. Since then, he's progressed to challenging careers in Web Development, Project Management, and Industrial Safety Management with Tenneco Inc. of Paragould, AR.
Professionally, Denishio is affiliated with the National Society of Black Engineers (NSBE), the American Communication Association (ACA), and the Organization of Black Designers (OBD).  Mr. Blanchett has
overcome several challenges along his career path through perseverance, drive and a constant good work ethic, traits that he attributes to the guidance and teachings of his beloved late Grandmother, Ms. Fannie Blanchett-Higgins.
Denishio has contributed greatly to the communities he has resided in. He is a member of the Jonesboro Black Professional Network (JBPN), the National Association for the Advancement of Colored People (NAACP), and the United Negro College Fund (UNFC). His driving force for change is fueled by an undying dedicated towards self-improvement and being a prideful example of true Manhood. Mr. Blanchett has always believed in leading by example and mentors teenagers in both Forrest City and Jonesboro, AR. Denishio is a member of Omega Psi Phi Fraternity, Inc., and he was a key brother in bringing the Epsilon Alpha Alpha Graduate chapter of Omega Psi Phi Fraternity, Inc. to Jonesboro.
Denishio also is a founder of the Forrest City Devine Nine. Denishio is involved socially and civically as a 32˚ Freemason, Royal Arch, Knights Templar, and Shriners A.E.A.O.N.M.S., Inc. – Prince Hall Affiliated.
Denishio has two children, Kellen and Kourtney. For Denishio, being energized into active fatherhood has been squarely planted in the simple fact that children are more likely to be socially, emotionally and cognitively healthy when fathers are more involved in their lives. In his spare time, he enjoys researching, fishing, golfing, grilling, traveling, and most importantly empowering his community.