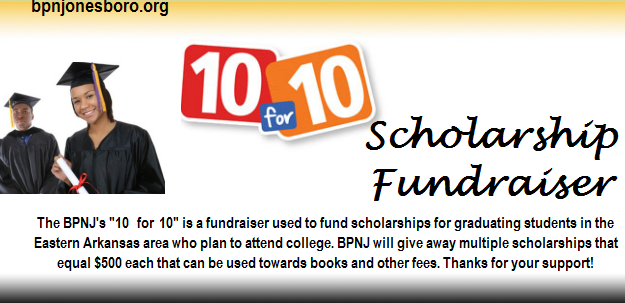 The Black Professionals Network Jonesboro's (BPNJ) "10 for 10" is a fundraiser used to fund scholarships for graduating students who plan to attend college. BPNJ will give away multiple scholarships that equal $500 each that can be used towards books and other fees.
Through electronic pay, the tickets will be $10.50 per ticket (50 cent paypal surcharge). For example, 5 tickets would be a total of $52.50. Donate & have a chance to win money also!!!
Thank you for contributing to The Scholarship Foundation of BPNJ. Your support creates the opportunity for students to fulfill their dreams! Not only are you investing in their education today, but you are expanding their options for success tomorrow.
– BPNJ
A donation of $10 will get you 10 chances to win $100 over the next 10 weeks; $20 gets 20 chances or feel free to just donate to a worthwhile cause.
If you would like to get tickets in person, a BPN member can assist you. See the weekly 10 for 10 $100 winners on Facebook.