The Second Annual Black History Quiz Bowl was Saturday in the Student Union Auditorium on the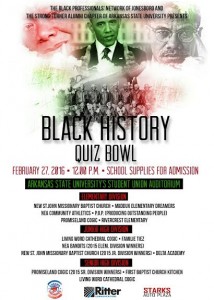 campus of AState.
If you missed Saturday's Black History Quiz Bowl, you missed a spectacular opportunity to see youth from NEA excel!
Congratulations to the 2016 BHQB Champions: Maddux Elementary Dreamers (Elementary Division), New St. John MBC (Junior Division) and Promiseland COGIC (Senior Division).
To the 14 teams who participated in Black History Quiz Bowl on Saturday, we could not host this event without you, our future leaders! To their coaches, thank you for taking the time to plant a seed in our youth. Our volunteers, thank you for giving up your valuable time on Saturday to ensure this was a smooth event.
We extend our gratitude to Cheers Unlimited, Life Strategies Counseling, Inc. (LSCI), Ritter Communications and Starks Auto Plaza for sponsoring this year's BHQB.
Thank you to our vendors, Astate Recruitment, Astate Career Services, Epsilon Alpha Alpha Chapter of Omega Psi Phi Fraternity, Inc., KLEK 102.5FM and Life Strategies Counseling, Inc. (LSCI). To our Friends & Supporters, the communities and spectators we appreciate your continuous support. Big thanks to Patrick and PJ Hilson for the magnificent pictures.
"The only time you should ever look back, is to see how far you've come." See you next year!!!
Talvickeo Banks, Corey Mills & Shya Washington
2016 BHQB Chairs
Below is the timeline of the competition.
Friend Supporters' Donation
For a minimum donation of $10, a Friend Supporter will have their name(s) listed on the 2016 Quiz Bowl program.
12:00 – 12:30 Opening Rounds Divisions Teams
12:30 – 1:00 Game 1 First Round Elementary P.O.P. vs. NEA Community Athletics
1:00 – 1:30 Game 2 Elementary Rivercrest vs. Promiseland
1:30 – 2:00 Game 3 Elementary Maddux vs. New St. John
2:00 – 2:30 Game 4 Junior Familie Tiez vs. Living Word Cathedral
2:30 – 3:00 Game 5 Junior Delta Academy vs. NEA Bandits
3:00 – 3:30 Game 6 Senior First Baptist Church vs. Living Word
3:30 – 4:00 Break
4:00 – 4:30 Game 7 Second Round Elementary Winner of Game 1 vs. Winner of Game 2
4:30 – 5:00 Game 8 Junior Winner of Game 4 vs. New St. John
5:00 – 5:30 Game 9 Championship Elementary Winner of Game 3 vs. Winner of Game 7
5:30 – 6:00 Game 10 Junior Winner of Game 5 vs. Winner of Game 8
6:00 – 6:30 Game 11 Senior Winner of Game 6 vs. Promiseland
6:30 – 7:00 Closing