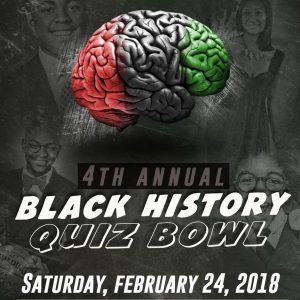 Greetings,
The Black Professionals' Network of Jonesboro will host our 4th Annual Black History Quiz Bowl Saturday, February 24, 2018. This event will be at Arkansas State's Student Union Auditorium. We hope that your church congregations, organizations, and schools will help to ensure that this effort is a huge success for our community.
We are asking that your church/organization sponsor a team to participate in this event. There will be three (3) levels of competition: (1) Elementary (grades 3-6);
(2) Junior (grades 7-9); and
(3) Senior (grades 10-12).
The cost per team in each division is $30.00. Registration is now open, and questionnaire packets will be emailed to team captains after registration fee is received.
We also have sponsorship opportunities available starting at $500-Gold, $250-Silver and $100-Bronze. If you would like to obtain a sponsorship letter with more information, please send an email to the address listed in this letter. Vendor tables are also available. Should you have any questions, inbox us on Facebook, email blackprofessionalsnetworkjb@gmail.com or see a BPN of Jonesboro member.
BPN Quiz Bowl Registration Form 2018
Friend Supporters' Donation
For a minimum donation of $10, a Friend Supporter will have their name(s) listed on the 2018 Quiz Bowl program.
Sincerely,
2018 Black History Quiz Bowl Committee
Black Professionals' Network of Jonesboro
PO Box 1673, State University, AR 72467
blackprofessionalsnetworkjb@gmail.com